Cut Off Dates for Christmas 2022 Delivery
Once again, it is that time of year when sales ramp up and your customers rely on you more than ever, to get their orders delivered before Christmas. This year, with the ever-increasing volume of online sales, carriers are working diligently to ensure your important shipment is delivered on-time. With global supply chain bottlenecks starting to ease and with local weather that has cooperated so far, we are looking forward to a smooth and trouble-free Christmas shipping season.
While some uncertainty still exists in the supply chain caused by factors out of their control, most carriers will provide guidance on cut-off dates for Christmas delivery, but without the normal guarantee.
Below are the Christmas cut-off dates from several commonly used carriers. This information is provided as a guideline only. For additional information, please contact Kitpak Fulfillment today.
CANADA POST to CANADA

CANADA POST to USA

UPS
Here are some important UPS shipping deadlines for you to plan around, in order to get your shipments delivered before Christmas.
December 15th – Last day to ship by Ground for delivery to US and Extended Areas.
December 16th – Last day to ship by Ground for delivery across Canada (domestic).
December 21st – Last day to ship by Air for International delivery.
December 22nd – Last day to ship by Air for delivery across Canada and the US.
Note: Dates are subject to change
FEDEX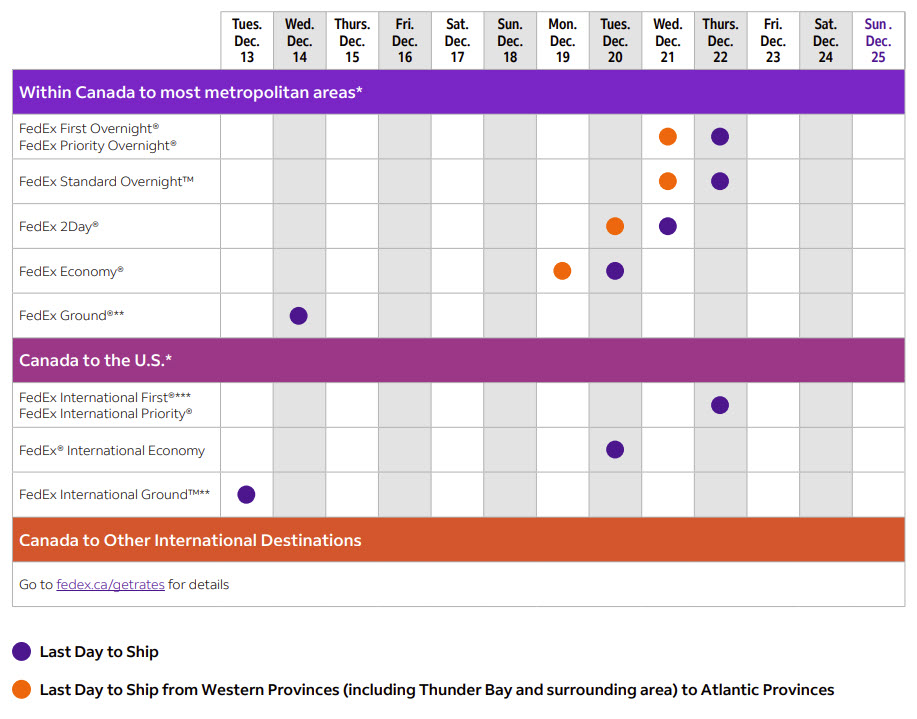 Kitpak Fulfillment is a leading provider of e-commerce fulfillment services to many online merchants and will ship products throughout Canada and the USA. For more information on how Kitpak can help streamline your fulfillment process and save you money CONTACT US or REQUEST a QUOTE today.